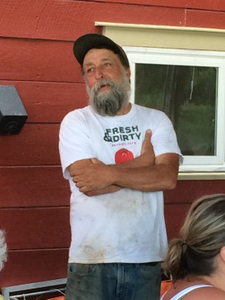 $

35.00
This year we hope to make the party extra special because our favorite farmer is turning 65!!! Long time friend and Chef John Vargo, who is making his return to the Hudson Valley after 12 years, is planning an amazing buffet including:Fruta de Mar,Crabmeat and Tomato Salad,Butternut squash and hot smoked salmon tossed in yellow tomato dressing.Grilled tuna skewers w/ hoisin glaze and ginger,Steamed Maine ocean clams w/ garlic – habanero butter,Corn griddle cakes,Sliced Heirloom Tomatoes w/ fresh heerbs and applewood smoked bacon,Smoked whitefish salad w/ crusty bread,Blackened catfish w/ creole sauce, Spanish Rice w/ capers, olives and fresh tomatoes.
PLUS:  Live musical entertainment, horse and buggy rides, birthday games, Annie and her wild birds!
ALSO: We will have a live mike so anyone who wants to can  share their favorite Ray story, make a toast etc. No Presents, only your presence!
Tickets include all the food and fun plus 1 drink. Price increases to $40 Sept 1st. No refunds and its rain or shine!