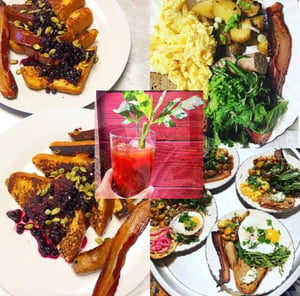 $

18.00
* Sunday April 19th 12-2:30PM*
Starting the season off right with Chef Sujan, who WOWed us with his amazing cooking all last year, and we are thrilled to welcome him back on the farm this season!
Your choice/ each ($18 inc tax). Buy your tickets early- $20 at the door!
MENU:
Bradley Farm Scrambled eggs with Farm raised Breakfast Sausage, Home Fries, Sourdough toast and ramp butter
OR
Bourbon Battered French Toast with Mixed Berry Coulis, Lemon Whipped Cream, NY Maple Syrup and Farm raised Breakfast Sausage
OR
Seasonal vegetable Spring Quiche with Farm raised Breakfast Sausage and mixed greens